Our Permanent Fosters
Sometimes CWVRG, Inc. takes in dogs that for one reason or another will not be able to be placed with a forever family. The dog's foster family becomes his or her permanent family. Oftentimes these are due to medical issues. These dogs are considered "Permanent Fosters" and will stay with their foster family permanently. CWVRG continues to cover medical costs associated with these dogs. As you can imagine, sometimes the bills are high. Toward that end we have created the "Sponsor A Vizsla" program. If you would like to assist with the care of one of these dogs we would be happy to accept a monetary donation or any other donation (pet store gift cards, collars, leashes, bedding, toys, etc.). Of course, for any donation you are kind enough to send us, we will provide you with a receipt to use as a tax write-off.
If you wish to sponsor a dog just send a check (payable to CWVRG, Inc.) or anything you wish to donate to:
CWVRG, Inc.
15837 W 95th Ave
Arvada, CO 80007
Make sure you note in the memo line which dog you wish to help. You can also send a donation via PayPal by clicking on the donate button next to their story.
Meet our Extra Special Vizslas
Just because a dog is old or has special needs, doesn't mean that they do not deserve the best life possible.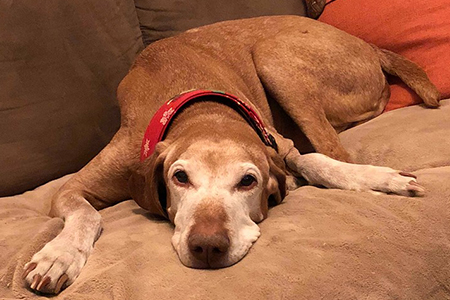 Bailey
Hi! My name is Bailey. I'm almost 13. I was with wonderful owners all my life, but they fell ill and could no longer take care of me. After a few stops, I ended up in my new forever home as a permanent foster. I've been here for a year and a half. I have a new mom and three brothers. They are quite a bit younger and drive me crazy sometimes, but we all get on OK. I am pretty independent, and do what I want. My foster mom says I've earned the right to be a little stubborn and cantankerous. She loves me anyway.
While I'm pretty spunky for my age, getting old sure isn't easy. I have arthritis in my back and hips and sometimes don't make it outside when I have to do my business. I also am very prone to bladder infections. Because of this, I'm on several medications and get acupuncture treatments every other week. This all helps me feel better, but does get a little expensive. I hear that there are a lot of other seniors like me staying forever with their foster moms and dads. Please consider sponsoring one of us. CWVRG works hard to make sure all of us old ones get the love and care we so deserve.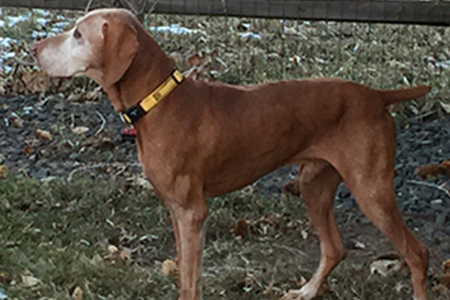 Avery
Avery came to us just about 2 years ago exactly. He was skinny, frightened easily, and could not be left alone. He was being treated for an infection, but not showing any improvement. After long months of vet visits and TRAUMA (he hates the vet and shakes uncontrollably when he must go), it was discovered that he had a tumor in his colon, one that would not be easily removed without significant side affects. The vet said it was a 12-15 month expected life span, and we were so sad. But, now we are blessed to still have him today.
In our house, we agree a lot of love and attention can add years to your life! Avery loves long, slow walks, playing with his toys, riding in our raft during the summer, and going anywhere in the car. He also LOVES to eat fresh veggies every day! Avery is a great dog, he listens to commands on the first try, and he is so eager to please. We feel blessed to be able to provide for him, because he makes our lives rich.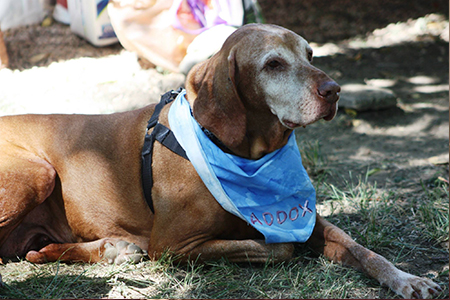 Maddox
Maddox is a loving, older male with severe allergies that prevent him from being able to take part in some activities and his diet is very restricted. He is currently living with an empty-nest couple and their female Vizsla. He enjoys it there and considers it home and they consider him one of their own. Maddox's special foods and medications are costly, so financial help will be gratefully accepted.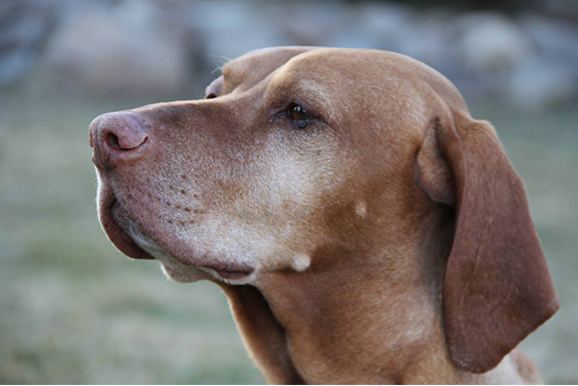 Mylo
Mylo is is 11 and doing great despite his debilitating arthritis. Because of the pain, he isn't walking on the mountain with his foster family anymore, but he does walk around the block everyday, unless he decides he wants to go home sooner. His foster family does their best to manage his pain, which means lots of drugs, which equals lots of money.
Despite his pain, Mylo shows up for all his meals. He hasn't missed one in a long time. He is a happy boy and loves nothing more than to snuggle up next to his humans for lots of loving and long winter naps.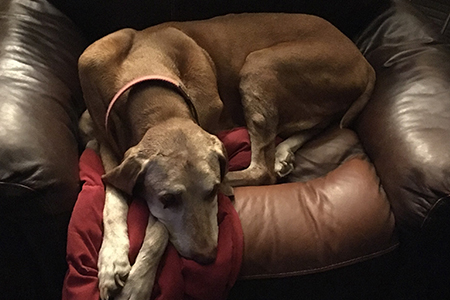 Cass
Cass: came to live with us in October 2016 with her sister Boots. She will be 14 years young this year. They adjusted well to country life, getting to live in the house, each having their own recliner to relax in and having space to roam around. Cass needed to lose a few pounds when she arrived and I think with an adjustment of her food and exercise she became a sprier doggie.
Sometime in late spring or early summer we noticed a very large lump growing on her right front leg so it was off to the vet. We learned she has an inoperable hygroma, but it hasn't stopped her one bit. She loves to steal your recliner just as you are going to sit down by running and leaping into the chair. She lives to be scratched and is very loving. She gets along very well with her adopted brother vizsla Barry and adopted sister viz/weim Gretchen. She moans with happiness as she sleeps and barks to be fed at feeding time. Loves her treats and is generally a happy puppy.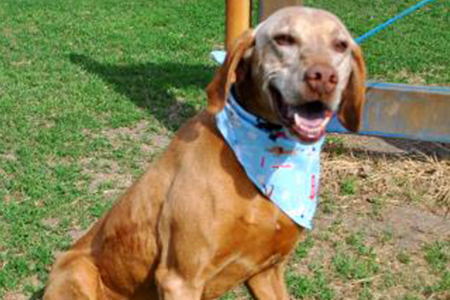 Jack
My name is Jack and I have been with CWVRG since the spring of 2015. I had spent my youth as a breeding dog and at nine-years-old, found myself in the local dog shelter. I wasn't very sociable with other dogs when I first arrived and was quite defensive. I didn't really get on with my foster mom's alpha or my foster dad. You see, I didn't really like men, they frightened me even when they weren't looking at me. It took 18 months and my mom leaving my dad in charge of me for the weekend for me to actually accept food from him! Crazy, right? He's the one that has all the good food!
I'm now living happily in with my foster parents and my foster boy and have no intention of leaving. My mom says I'm a good boy but a little too unpredictable especially if I'm taken by surprise and my veterinarian says I have hip dysplasia and arthritis so I take Primarily. I have 2 dog brothers and have been foster brother to many others. I like the older ones but I wish she would stop bringing those bouncy young ones home. I've mellowed so much that I'm even allowed access to my mom's cat!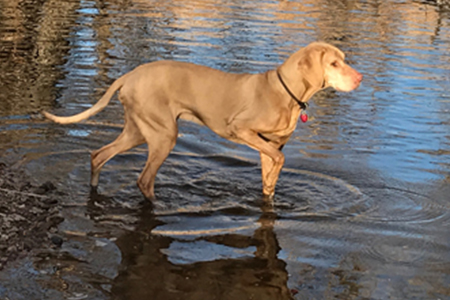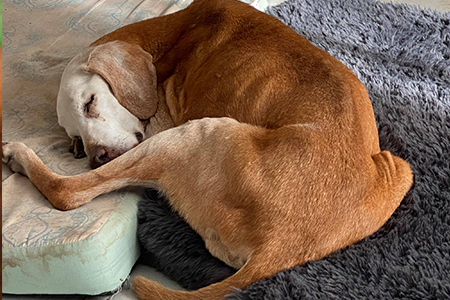 Molly
Molly, aka Molly Moo, is an 11-12 year old female Vizsla that loves her cuddles. Molly is a sweet senior girl who enjoys curling up next to her humans, especially her favorite 9 year old human, whom she sleeps with each night. She greets everyone in the house with a happy "rooroo", especially if it's close to meal time!
She has 3 doggy foster brothers that she is learning to love, even though they often try to steal her spot on the couch and make her share her snuggle time. Molly has happily retired in rescue after spending time in several homes, through no fault of her own.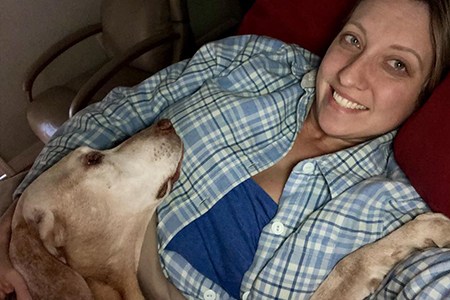 Spears
Spears came to CWVRG and his new permanent foster family in June 2017, at the age of 13. He is a spunky character who fit in immediately with their pack of crazy Vizslas and just-turned-one year old son. Spears initially needed some routine veterinary care, but is now a healthy older gentleman.
Spears has a special bond with his foster human brother, Christopher, and was right there cheering him on as he took his first steps! He was raised with excellent house manners and did not get on the furniture. This unfortunately left Spears out of family time on the couch! Slowly he has adapted to his new environment, and his humans were thrilled to find him in bed with them on Christmas Eve. What a wonderful Christmas present! They feel so lucky that he's part of their family.