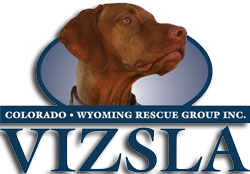 Our Beginnings
Colorado/Wyoming Vizsla Rescue Group, Inc. (CWVRG) started with a group of dedicated people wanting to help out vizslas in need. CWVRG started as a small group in the late 1990s. In 2007 a Board of Directors was created and CWVRG became incorporated as a 501c3 not-for-profit rescue organization. While the Board of Directors and other individuals played a part in the beginnings of CWVRG it is really the many Vizslas who started this group. Without Jesse, Wendy, Wilson, Faith, Chewy, Simon, Eureka and the many other Vizslas we have taken in and helped this organization would not exist. We exist for them and for the Vizslas who are still in need and have yet to find their way to us.
The main goal of CWVRG is to match Vizslas in need of a home with loving families wanting to adopt a Vizsla. We are dedicated to providing rehabilitation and foster care for abandoned or abused purebred Vizslas or Vizsla mixes; to educate the community in regards to responsible dog ownership, including the spay/neuter of companion animals; assisting shelters by promoting awareness and working with shelter managers/directors in our areas, and accepting or adopting shelter dogs as quickly as possible.
While we are an independent Vizsla rescue group, we support and assist the Vizsla Club of America (VCA) and other Vizsla rescue organizations around the United States. Our purpose is to help the Vizsla and the people who love and support the breed. As necessary, we offer support to humane shelters that handle stray or surrendered Vizslas or need assistance due to natural disasters.
It is our goal to leave no Vizsla in a designated area shelter or surrendering home longer than it takes to arrange pickup/release of the animal to Vizsla Rescue and foster care.
How CWVRG Works
CWVRG currently covers Colorado, southern Wyoming, Kansas, southern Nebraska and New Mexico. We have a large group of member/volunteers who provide a variety of services for the dogs we intake, including fostering, transporting and conducting home visits/evaluations on prospective adopters. All rescued Vizslas in our care are provided medical care (spay/neuter, shots, heartworm & fecal tests, and other medical treatment as needed) and microchipping. We evaluate each dog for a minimum of 2 weeks, looking at temperament and compatibility with other animals and children. If needed, our organization is equipped to provide rehabilitation to those animals that have been traumatized and require additional support and care.  CWVRG, Inc. pays all medical costs and most other costs associated with fostering the Vizsla prior to adoption.
Once the Vizsla is ready to be adopted, we thoroughly examine the adoption applications from prospective families to find as perfect a match as possible. If we don't have a family that is a good fit for one of our rescues, we network with Vizsla rescue volunteers across the region to try and match the dog to a loving permanent home.
Since we are a 501(c)3, not-for-profit corporation our funding comes through individual donations, adoption donations, and participation in fund raising projects.
The Board of Directors
We are starting to add bio's of all our Board members. Check them out here!
Don Dazlich, Chairman of the Board
Teila Gilchrist, President
Becky Clippinger, Vice President
Marty Rosenthal, Secretary/Treasurer
Angela Dazlich, Director
Lauren Cohen Director
Miriamber Daigneault, Director
Pauli Smith, Ex-Officio Director and Webmistress