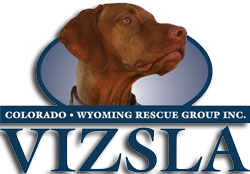 Colorado/Wyoming Vizsla Rescue Group, Inc. is a 501c3 nonprofit corporation officially formed in 2007. Our mission is to protect the Vizsla who has been abandoned or abused. We offer additional support to humane shelters or animal rescue organizations that handle stray or surrendered Vizslas in need of care due to natural disasters or other emergencies.
Ash
I'm about 5 years-old and in my former life before CWVRG rescued me, I lived a rather dull existance in a kennel as a stud dog. Hardly anyone ever played with me, which made me very sad. Don't you all worry though, since being rescued, I have blossomed into a very happy, loving, affectionate, lapdog and much prefer lounging on the couch to zooming around the house and tearing up the place. click here and check me out!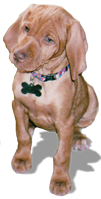 Help a Vizsla!
Colorado/Wyoming Vizsla Rescue, saves the lives of dozens of Vizsla and Vizsla mixes every year. Since we don't shy away from sick and injured Vizslas, we often have huge vet bills and or foster home expenses. We need your help! We are totally donation based and 100% of the donations are spent on the dogs (food, collars, leashes, gas for transports, etc). Remember that we are a 501(c)3 so most or all of your donation is tax deductible.